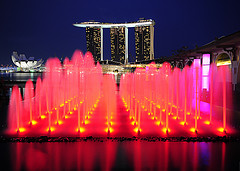 The next Formal Methods conference FM 2014 will be held in Singapore. It takes place May 12-16, 2014 at the National University of Singapore (NUS).
The general chair responsible for the event is Jin Song Dong. The local chair is Yang Liu, NTU, Singapore.
The PC Co-Chairs responsible for the technical program are
Cliff B. Jones: Newcastle University, UK
Pekka Pihlajasaari: Data Abstraction (Pty) Ltd., South Africa
Jun Sun: Singapore University of Technology and Design, Singapore
Important Dates:
Abstract due: November 7, 2013
Full papers due: November 14, 2013
Industry Track Submissions: January 16, 2014
The Preliminary Call for Papers is available for download.
More details can be found on the website of FM 2014.
The FM conference series is the main event on formal methods organized by the FME organization. A list of past FM symposia can be found here.
(Photo: williamcho)